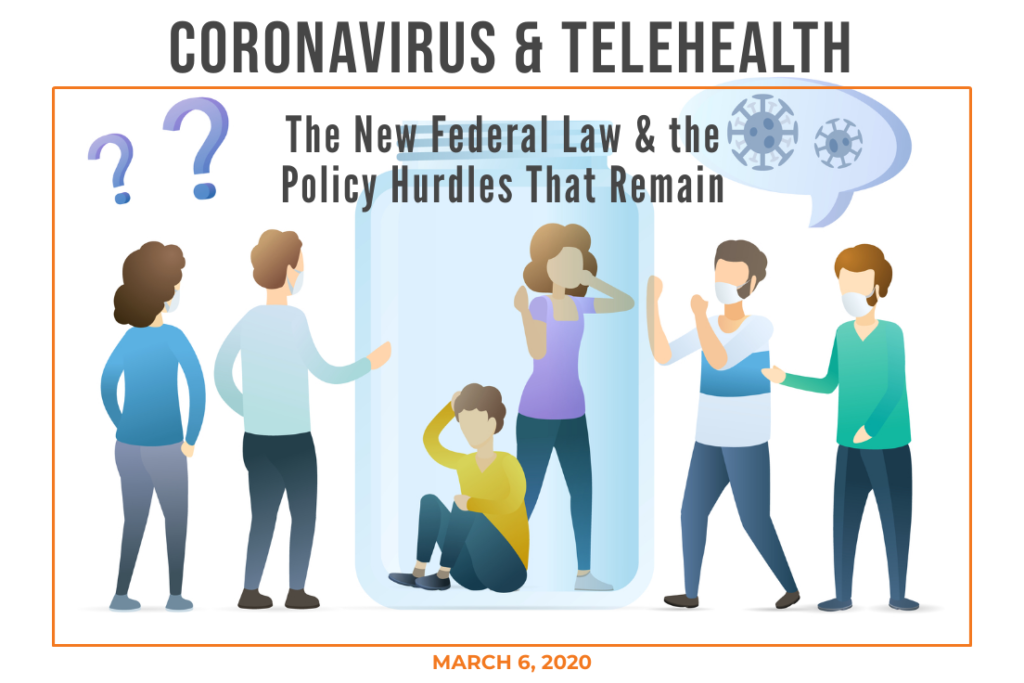 The President signed today HB 6074, the Coronavirus Preparedness and Response Supplemental Appropriations Act, 2020. In addition to the $8 billion appropriated to address coronavirus, HB 6074 grants certain powers to the Secretary of Health and Human Services to waive some of the telehealth limitations in Medicare. As many have noted in recent days, telehealth can be an effective tool in helping to address the current health crisis, however, existing policy barriers limit when, where and how it can be used. By providing the Secretary with the ability to waive some of those limitations, it does allow telehealth to be used more widely. But HB 6074 only addresses the barriers in Medicare. Millions of Americans do not receive their health care through the Medicare program and restrictions on the use of telehealth still exist for them.

HB 6074 – What Does It Say?
Currently in Medicare, telehealth-delivered services need to take place in specifically designated geographical areas, a specific type of site, be provided by a certain type of provider, using essentially only live video, and only certain services are reimbursed. HB 6074 allows the Secretary to only waive the geographic and site restrictions. While definitely a major change, especially the site limitation which would make the home an eligible site which is very important as many people are in self-quarantine, there still remain limits on who the provider can be and what service can be provided via telehealth. Certain providers who could be utilizing telehealth to treat patients exposed to or having coronavirus would still not qualify, such as Federally Qualified Health Centers (FQHCs) and Rural Health Centers (RHCs). FQHCs and RHCs under Medicare can only act as originating sites, they cannot act as a distant site provider and HB 6074 does not change that.

HB 6074 notes that the provider must be a "qualified provider" which is a physician or practitioner as defined under the telehealth section for Medicare who:furnished to such individual an item or service for which payment was made under title XVIII during the 3-year period ending on the date such telehealth service was furnished; or is in the same practice (as determined by tax identification number) of a physician or practitioner (as so defined) who furnished such an item or service to such individual during such period.
In Medicare, these additional requirements for a "qualified provider" do not currently exist in telehealth policy. These additional requirements appear to only apply to services related to treatment for coronavirus.

Another change HB 6074 makes from what is seen in the typical telehealth policies for Medicare is that it will lift the limitation on phone use if, "such telephone has audio and video capabilities that are used for two-way, real-time interactive communications," which essentially means a smartphone can be used to engage with a provider.

The waivers in HB 6074 appear to apply to all eligible services delivered via telehealth and not only the ones related to coronavirus. However, it is not clear if that is the intent. We will have to wait to see how the Centers for Medicare and Medicaid Services (CMS) implements this new policy.

What About the States?
Changes in the telehealth policy for Medicare will only cover some of the American population. States and state Medicaid programs have their own limitations on how telehealth can be used. Depending on the state and who is covering the health service, telehealth may be limited in how it can be used. For example, many state Medicaid programs do not allow the home to be an eligible originating site. For treating those who are quarantined at home during this crisis, telehealth would not be an option if they are covered by one of those Medicaid programs that do not allow the home to be an originating site. There are some state Medicaid programs that also limit the types of specialties for which telehealth can be used. For example, Pennsylvania Medicaid limits the use of telehealth to only mental and behavioral health services. To see what your Medicaid program covers, check CCHP's 50 State Report.

One would think that if a state of emergency is declared in a state, then surely these currently existing telehealth limitations could be waived. However, very few states have in statute utilization of telehealth when a state of emergency is declared. California is one of the few states with actual law having recently passed AB 1494 which removed barriers to Medicaid reimbursement for community health clinics (CHCs) during states of emergency for telephonic services, and when services are provided in the beneficiary's home. Depending on how broad the policies are, other states may have to pass legislation in order to allow telehealth to be used more extensively.

Private payer policies can be even more limiting on the use of telehealth. Some states do not have requirements on what health plans are required to cover if a service is delivered via telehealth. So there is a possibility that if a person has coverage through their employer, a service via telehealth may not be covered.

All of the aforementioned issues relate to telehealth reimbursement. For the most part, there is nothing that prohibits a person from receiving services via telehealth (provided all other laws such as licensing, privacy, etc. are met). However, will your insurance cover it or will you have to pay for it out-of-pocket is another story. As the situation and landscape constantly changes with each new piece of information, we should ensure our health care providers have access to every tool available to care for patients safely and effectively.