Opportunity
Avera eCARE, the world's leading telehealth provider, is part of Avera Health, based in Sioux Falls, S.D. Avera eCARE delivers a wide continuum of services to meet varied needs of patients, clinicians and health systems, including Emergency, ICU, Pharmacy, Senior Care, Behavioral Health, Correctional Health, School Health, Hospitalist and Specialty Clinics. Over the span of 25 years, Avera eCARE has developed an innovative network to meet Avera's unique needs as a health system, providing more than 3 million patient telehealth encounters at over 450 sites in 30 states.
Solution
Recognizing a large number of baby boomers aging into retirement at an ever-growing rate, and projected to outpace the number of medical professionals available, Avera eCARE collaborated with Tyto Care to provide telehealth support within senior living communities. Leveraging Tyto Care's platform offerings, Avera eCARE sought to improve access to specialized senior healthcare services, provide timelier treatment, bolster varied medical staff, assist with medication management and reduce unnecessary clinic or emergency room visits.
Patient Journey

Treatment in Place
YTD 93% of Residents Treated In Place & Only 5% Transferred to ED via EMS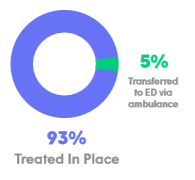 Reduction of Transfers

Assisted Living Residents
I fell walking out of church and the staff was able to get all the answers they needed and how to dress my wounds so that I didn't have to so into urgent care or the emergency room….

Improve access to healthcare services
Enhance the quality of care and quality of life
Timelier treatment to care
Help assess needs for higher level of care
Reduce clinic and emergency room visits
Decrease admissions & readmissions to the hospital
Care Providers
Implementing eCARE has tremendously reduced my on-call time. Before I was on-call all but 4 days a month. Now I'm only on-call 4 days a month. This change has greatly improved my quality of life….
Assisted Living RN
Educational opportunities
Reinforce skill competencies
Back-up support & guidance
Access to a team of geriatric-trained specialists
Assistance with resident concerns (falls, medications, skin, etc.)
Family of Residents
When the eCARE cart is being used it is typically at night or on the weekends and the family of the residents do feel more comfortable knowing that their family member is being taken care of right away….
Reassurance resident will be seen in timely manner
Increase confidence and provide peace of mind
24/7 access to a team of geriatric-trained specialists
Increase overall satisfaction
Encourage family involvement with health concerns
Avoid unnecessary transfers