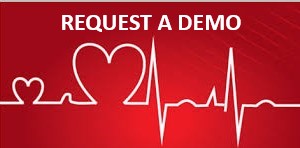 How Digital Patient Management is Simplifying Surgical Procedures
Choosing the right digital technology for your surgical practice, clinic or hospital can:
» Enable dramatic efficiencies in pre-operative patient preparation and adherence;
» improve performance in the operating room;
» reduce the burden on physical and personnel resources (beds and staff); and
» result in declines of post-operative emergency room or clinic visits/admissions.

For patients, preparing for surgery can seem complicated and confusing. Provided with lists of things to do – or avoid – before, during, and after the procedure are often overwhelming or difficult to understand and remember. Having a clear understanding of the procedure, its potential complications, and what to expect for recovery, is resulting in:
» patients feeling more in control and less anxious;
» adherence to preparation and recovery instructions is higher; and
» decreased levels of post-operative pain is leading to faster and easier recovery.

PRE-OPERATIVE EDUCATION AND FORMS
A standardized collection of pre-operative instructions and consent forms are developed in the platform, forming a quickly repeatable process template across a virtually unlimited number of patients. Pre-operative instruction on medications, fasting, anesthesia, or post-operative care is stored and provisioned from one centralized, accessible- anywhere platform.
Patients can share the information with anyone in their Circle of Care, refer back as often as they wish, and can submit questions or concerns they have to their Care Team who can then choose how and when to respond.
AUTOMATED WORKFLOWS
Workflows are a repeatable pattern of activities or actions that take place in a specific sequence with a consistent set of functional actors.
Fully customizable workflows can be established to send patients automatic reminders to undertake a specific step in their preparations. Once the patient has taken the prescribed action, identified members of the Care Team receive notification that the step has been completed, and the next step in the workflow is triggered.
Anyone in the Circle of Care can be included at any point along the workflow timeline, making it ideal for things like automating consent forms, pushing out assessment surveys or pain scale ratings, and specifying different actions based on results. For example, if the patient's response to their pain scale rating is high, a different medication or dosage instruction is provided and a notification to the clinician or nursing staff is triggered.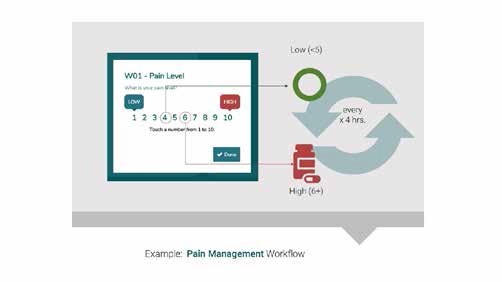 POST-OPERATIVE MONITORING & VIRTUAL CHECK-INS
Getting patients out of the hospital and recovering from the comfort of home is something both clinicians and patients strive for – but can create unease for the patient. They may worry over having a perceived lack of contact and monitoring of their progress.
Reaching out to patients more frequently via text messaging, video-based virtual check-ins, even reviewing data points collected by home monitoring devices (like blood pressure readings), patients are benefiting from more attentive care without the inconvenience of overnight stays, multiple phone calls or visits to the clinic. These touchpoints can be ad-hoc or set up to activate at pre-determined intervals – from hours to days, even weeks after the procedure.