Preparing for the 2022 CPT Code Changes Evolving Remote Patient Care
By  Shailendra Sinhasane   Posted  March 31, 2022
Each year, new Current Procedural Terminology (CPT) codes are renewed by the American Medical Association (AMA). The 2022 CPT code changes are minimal and it brings forth modifications to the existing descriptors and codes in the healthcare system. CPT billing codes create an influx of revenue streams through remote patient monitoring and remote therapeutic monitoring avenues. 
As the remote patient monitoring CPT codes landscape keeps expanding, CMS has revised some of the key RPM CPT codes for 2022 at an affordable rate. The Centers for Medicare and Medicaid Services proposed and published its Medicare Physician Fee Schedule for 2022. In the new CPT codes for 2022, CMS recognized close to 5 new CPT codes for remote therapeutic monitoring, focussed on COVID-19 specific CPT codes 2022, and for CPT codes in chronic care management.
Before speaking about the 2022 coding changes in CPT, let's understand what their code changes signify.
Significance of 2022 CPT Code Changes
The healthcare industry in the US is regularly evolving with the inclusion of driving factors like advanced digital health technology, regulatory guidelines, interoperability of data, a shift in value-based care payment models, the changing patient demographics, and consumer experiences. The innovation in care delivery services has included the telehealth CPT codes 2022 and the COVID-19 codes have also been remodified to ensure the healthcare revenue cycle.
As healthcare businesses provide multi-faceted services through medical coding and billing services, physicians need to navigate successfully the new trends in the healthcare scenario.
Here are a few trends in medical billing and coding services in 2022.
1 Inpatient Prospective Payment System FY 2022
The Inpatient Prospective Payment System (IPPS) final rule for the fiscal year (FY) 2022 increased the hospital reimbursement value by 2.5% and also increased the rates for COVID-19 therapies and diagnostics. 2022 final rule now has included the codes for procedures and diagnostics and Medicare groups with severe diagnosis-related adjustments. The IPPS for FY 2022 focuses to improve the quality of measurement and data evaluations in the healthcare department. CMS is aiming to leverage the lessons learned during the pandemic to improve the care quality and enhance patient-provider transparency for taking better and more informed decisions regarding their care.
2 Medical PFS 2021
The Medicare Physician Fee Schedule (PFS) included the changes in reporting E/M services, enhancing payment for special services, reducing payment structure for other healthcare concerns, and expanding the telehealth provision list. All of these inclusions are playing a significant role with the help of medical insurance codes and CPT billing codes.
3 2022 New medical coding
Since 2022, medical coding companies and healthcare providers have been dealing with challenges that hamper the assurance of receiving accurate clinical coding and documentation for the COVID virus that had no documents recorded before. The major changes in medical coding to account for COVID-related conditions have new CPT codes that detect the treatment and immunization and it is well expected in 2022. To the additional changes in the Medicare PFS, the ICD-10 codes for FY 2022 include at least 159 new coding changes, 22 codes have been revised, and 30 codes have been invalidated. The coding teams are gearing up to help providers utilize the new coding systems.
4 Billing and documentation of virtual visits
The pandemic shifted patient care from outpatient to virtual visits and consultations. Telehealth usage has increased by almost 38 times since the coronavirus epidemic. The telemedicine rules are continuously changed and regulated due to this, and commercial and Medicare payers are required to have specific payment needs, especially when it observes virtual visits. Other than the rapid adoption of telehealth services see an increased rise in 2022 with the rise in chronic conditions and with the growing senior population with a shortage in physicians and providers. Unique and specific for telehealth CPT codes 2022 includes EM visits, new requirements for billing, and the usage of including code modifiers. This modifier 93 enables better reporting of medical services offered through real-time communication and interactions with providers and other healthcare professionals through technology-based only on audio communication.
5 2022 CPT code changes in claim denials
Billing services that are correlated to the pandemic is still a major challenge in healthcare. Almost 40% of rates were initially in claim denials for COVID-related cases in the first 9-10 months. In 2022, healthcare providers and medical coders are requested to work on documentation improvements to mitigate claim denial challenges which are one of the larger parts of compliance risks for healthcare organization businesses and generation of revenues.
The 2022 CPT code changes and medical billing trends are evolving constantly. The teams involved in medical coding and billing organizations are understanding the importance of coding education to keep up with the healthcare technology trends. They are adhering to the top and best practices required in medical coding and billing ensuring accurate claims submissions and timely meets with the payer guidelines, and hospitals and healthcare providers are looking to maximize their reimbursements to improve the patient care experience.
2022 CPT Code Changes in Remote Patient Monitoring for Reimbursement Rates
The final rule in 2022, CMS has offered its support to remote patient monitoring and telehealth with five new codes under remote therapeutic monitoring (RTM). With the expansion in remote patient monitoring, CMS revisited and revised some of the key remote patient monitoring CPT codes at affordable rates. The 2022 CPT code changes and reimbursements for the existing remote patient monitoring CPT codes are: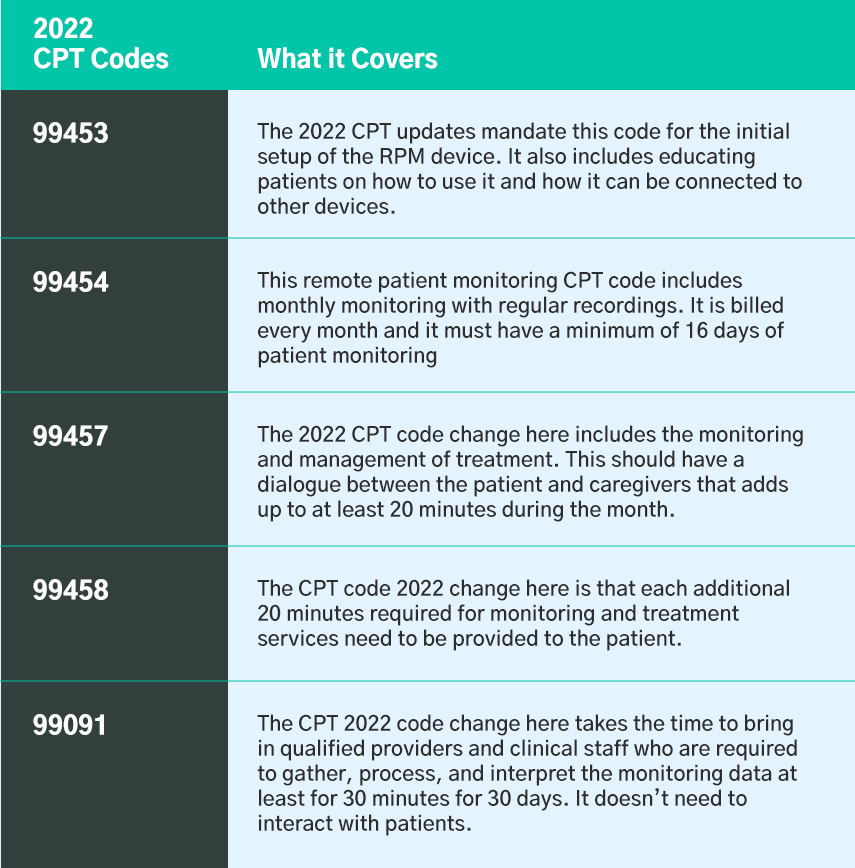 Remote Therapeutic Monitoring and the New CPT Codes 2022
The Centers for Medicare and Medicaid Services released the PFS for 2022 on remote therapeutic monitoring (RTM) codes. 5 new codes have been included in the RTM. Before discussing the 2022 coding changes and new implementations, let's understand what Remote Therapeutic Monitoring and its codes mean.
The Purpose of Remote Therapeutic Monitoring
Remote therapeutic monitoring in general has management codes that are specifically designed to mirror the remote patient monitoring CPT codes. Remote therapeutic monitoring's (RTM) intended plan of action is the management of patients with the help of medically designated devices by collecting non-physiological evidence and data. Despite the coverage planned by CMS fr covering RTM as one of the proposed rules, the importance of the RTM concept is to note the specific requirements that are still undefined.
The CMS has discussed two differences between RPM and RTM that are major. In RPM, providers cannot bill patients for RPM services but maybe provide a CPT bill for RTM. the proposed rule for RTM shows how Medicare has pointed out that the AMA designated RTM codes as non-evaluation and management (E/M) codes, which disallows Medicare to lace them as general supervision care delivery management codes. The second way RPM is different from RTM is the nature of the data collected. RTM can be worked for non-physiological healthcare devices, for example, support for medical adherence. Any information on a medical device that can be collected which are non-physiological and be billed under remote therapeutic monitoring.
New CPT Codes for 2022: Remote Therapeutic Monitoring
The 2022 CPT code changes and the inclusion of new codes in RTM have expanded the use of Medicare plan coverage for remote monitoring patients that are beyond the scope of RPM. this is one of the breakthroughs for 2022 in the digital health reimbursement schemes. Healthcare stakeholders have suggested that the recent RTM 2022 CPT codes were created to enable providers and practitioners who are unable to bill for RPM CPT codes. The remote therapeutic monitoring codes for 2022 include:
98975: Equivalent to the RPM CPT code 99453, the initial setup and education of patients are used for equipment. This code allows providers to bill at least one episode of care. The care delivery starts with RTM services being activated and comes to a conclusion when the goals of specific treatment are met.
98976: RTM devices, especially needed for respiratory systems, require the CPT code to be supplied with scheduled daily programmed alerts and recordings transmissions are needed for monitoring respiratory systems every 30 days by proper providers.
98977: Remote therapeutic monitoring devices for this CPT code are required to be transmitted with the supply of scheduled recordings and programmable alerts for transmissions for monitoring the musculoskeletal systems every 30 days. The codes 98977 and 98976 are billable once per 30 days of monitoring.
98980 and 98981: RTM treatments, physicians/providers who are exceptionally qualified in healthcare delivery on time in a month are required to have at least one interactive communication with the caregivers of the patients and the patients during that month for at least 20 minutes of the said month via phone calls or video communications.
Other Key Takeaways with the new CPT Updates in 2022
The changes to the 222 CPT code changes are editorial and set on the base of coding demands required for precision medicines, digital health, augmented intelligence, and other necessities of the new healthcare frameworks. Some of the other CPT code updates include:
4 new codes 99424, 99426, 99427, and 99425, have been implemented as the principal care management offerings for allowing healthcare providers to accurately report care delivery to patients with complex chronic conditions.
A new appendix solely created for taxonomy required for digital medicine services that supports the awareness and understanding of patient care approaches via multifaceted availability of digital medicine for reporting the code set for CPT.
The new CPT billing changes are ensuring better and more accurate coding and reporting of COVID-19 vaccinations and administration services. The AMA is offering vaccine code finder sources to assist in identifying the appropriate CPT code combinations regarding the type and the dosage of the coronavirus vaccine for every patient.
Bottomline,
The 2022 CPT code changes are creating a new stream of revenue by providing better RTM and RPM services to make it more profitable and easier to implement for the healthcare billing and coding teams. The new changes in CPT codes can pique the patient care delivery by providers and caregivers for delivering a better care experience to patients with regular monitoring and appointment scheduling. Companies involved in digital healthcare services can help to deliver customizable and comprehensive software that fits the needs of healthcare organizations.