A Quick Reference Guide to Remote Patient Monitoring During the COVID-19 Pandemic
Remote Patient Monitoring (RPM) is real-time or near real-time evaluation of a patient's clinical status outside of a traditional healthcare setting. RPM leverages wireless devices (e.g., weight scale, blood pressure monitor), often integrated with a software platform, to monitor patients' health status.
Providers can use RPM to manage patients with a range of chronic conditions (e.g., congestive heart failure, hypertension, diabetes, COPD/asthma), patients with postoperative care needs (e.g., interstage cardiac surgery), and now patients with COVID-19 (e.g., monitoring of oxygen levels and blood pressure).
Many hospitals and health systems have adopted some form of RPM on at least a pilot scale, and recent expansion of Medicare coverage, as well as the COVID-19 pandemic, is accelerating the growth of RPM.
Advantages of RPM include:
Speeding up intervention when a patient's condition becomes concerning
Improving continuity of care for chronic conditions and high-risk patients
Decreasing readmissions, ED visits, and other unnecessary outpatient and inpatient utilization
Empowering patients to engage in self-management
Reimbursement and Financing
Payer reimbursement for RPM can be fee-for-service (FFS) reimbursement or indirect subsidization via population-based payments.
Fee-for-Service

– Remote Physiologic Monitoring Codes: The ongoing surveillance and interpretation of a patient's physiologic data, digitally transmitted by the patient and/or caregiver to the provider, using a device that is defined by the FDA as a medical device, which is wirelessly synced where the provider can evaluate the data.

– Self-Measured Blood Pressure Monitoring Codes: Assessment of a patient's self-reported readings from regular use of a personal blood pressure monitoring device to assess and record blood pressure across different points in time outside of a clinical setting, typically at home.

– Continuous Glucose Monitoring Codes: The ongoing surveillance and interpretation of a patient's glucose levels, digitally transmitted via a sensor inserted under the patient's skin.
Population-Based Payments

– Care Management Fees: Providers may choose to leverage available population-based care management fees or other infrastructure funding to implement RPM, although such funding is generally not specifically tied to RPM.
Not all providers and hospitals conducting RPM are yet taking full advantage of FFS reimbursement for RPM, but Medicare and other payers have recently expanded reimbursement. The following figure summarizes Medicare reimbursement codes for RPM.
Figure 1. RPM Reimbursement Under Medicare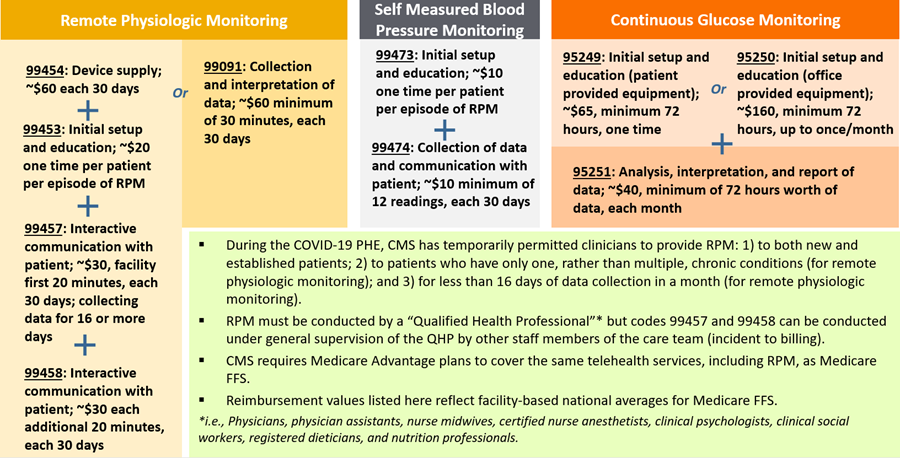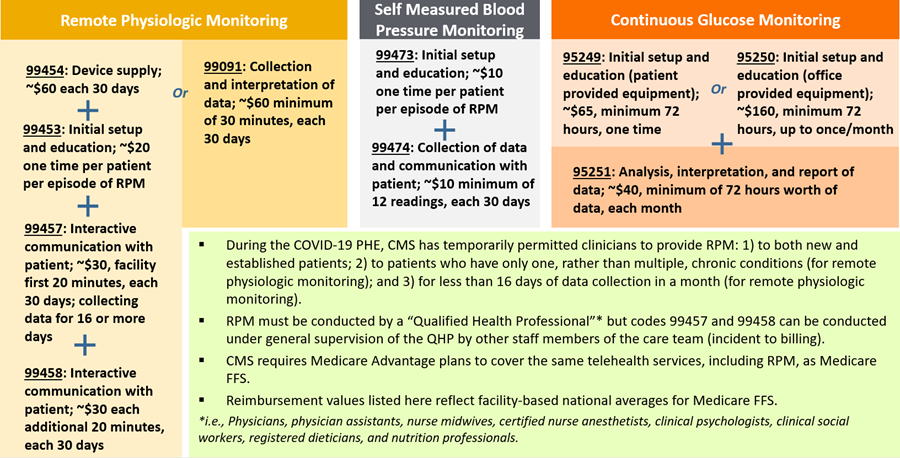 Medicaid programs also reimburse for RPM at varying levels, depending on the state.
Beyond reimbursement codes, providers may receive additional federal funding to support implementation of RPM during the COVID-19 pandemic.
FCC COVID-19 Telehealth Program: $200 million in direct funding to providers to purchase telecommunications, broadband connectivity and devices (including RPM devices) necessary for providing telehealth services; anticipated $1 million funding limit per provider
CARES Act Provider Relief Fund: $175 billion in direct funding to offset provider expenses and lost revenue related to COVID-19
Implementation
Providers may take the following steps to implement an RPM program:
Determine Specific Use Cases: Identify population(s) that would benefit most from RPM (consider piloting before scaling); identify success metrics; establish buy-in.
Consider Budget and Vendor Scope: Determine desired level of vendor commitment. The RPM vendor spectrum ranges from "devices only" to "devices and software" to "full service," including devices, software and clinical/call center staffing.
Determine Workflow: Consider workflow variables such as staff who will run the RPM program; level of integration with EHR or other care management platforms; criteria for alerts/notifications; patient offboarding from RPM.
Contract With Vendors/Purchase Technology: Ensure compliance with HIPAA and state law.1
Engage With Providers and Patients/Community: Provide adequate training; communicate clearly and consistently; coordinate with other members of the care team outside of the hospital.
Evaluate Against Success Metrics: Regularly measure against identified process and outcome metrics; adjust workflow as needed.
While RPM is still relatively new for most providers, it has significant potential to improve healthcare delivery and outcomes. Providers should explore strategies to launch or expand their RPM programs during and beyond the COVID-19 pandemic.