By Heather Spillman  Sep 15, 2020
Telehealth is not a new concept for the health care industry. Prior to Covid-19, the provision of health care services via telehealth varied dramatically across providers, with significant differences based on the organization's size, type, specialty, and even the market.
Virtually overnight, Covid-19 changed telehealth from a "nice-to-have" capability to a strategic imperative, enabling health care organizations to provide vital services to patients in a safe and effective way, while also recouping some of the volume losses that threatened to decimate parts of the industry. Providers went to market quickly with a variety of telehealth solutions, and largely made it work, capitalizing on relaxed regulatory guidance intended to remove barriers to entry.
Many areas of the country are already experiencing resurgences of Covid-19, and it is foreseeable that second and perhaps third waves will occur at least in pockets of the country throughout the remainder of 2020. As health care organizations struggle to balance their continued response efforts with preparations for future waves, they have inquired about how best to prepare for what may come. Now the industry is considering a number of questions including:
What role will telehealth play long term?
How will changes in regulatory guidance impact providers' ability to successfully deploy telehealth services?
What efforts do health care providers need to undertake now to position themselves for sustainable performance in the future?
Telehealth trends to watch
The Centers for Medicare and Medicaid Services (CMS) stated in a recent briefing that they expect the Medicare volume to stay at around 21% long term, and other trending data seems to support this transition. The same CMS report also highlights the predictable variation in telehealth utilization across specialties, with psychiatry leading the trends (with 60% of visits conducted via telehealth for the measurement period), followed by gastroenterology (49%) and neurology (41%).
Perhaps the clearest indication of CMS's commitment to telehealth as a long-term method of providing care is the well-cited quote from Seema Verma, the CMS administrator. "I think the genie's out of the bottle on this one," said Seema Verma. "I think it's fair to say that the advent of telehealth has been just completely accelerated, that it's taken this crisis to push us to a new frontier, but there's absolutely no going back."
This is the time for organizations to consider how to scale and adapt their telehealth strategies to become an integrated part of their organization in a way that is not dependent on relaxed regulations in the future and that drives profitability for their practice.
Implementing key telehealth capabilities for health care organizations
Telehealth can be viewed as a continuum, with a low barrier to entry under current conditions and the opportunity to evolve capabilities over time. Many health care providers are beginning to grapple with how to effectively implement telehealth into their practice in a way that moves beyond a reactive solution to an integrated part of their business strategy.
As organizations are considering what telehealth looks like for them and designing a telehealth approach, it is helpful to start by really considering their organization (e.g., specialty, provider mix, service mix), the patients they serve (market, demographics, access to/comfort with technology), and specific payers they contract with (payer mix, value-based care arrangements, capitation models).
To develop an efficient and profitable telehealth approach, organizations must really understand every potential telehealth impact for their organization and how incorporating it may fundamentally change parts of their operations and even their business model. Below are specific capabilities organizations should mature over time as they build their telehealth approach.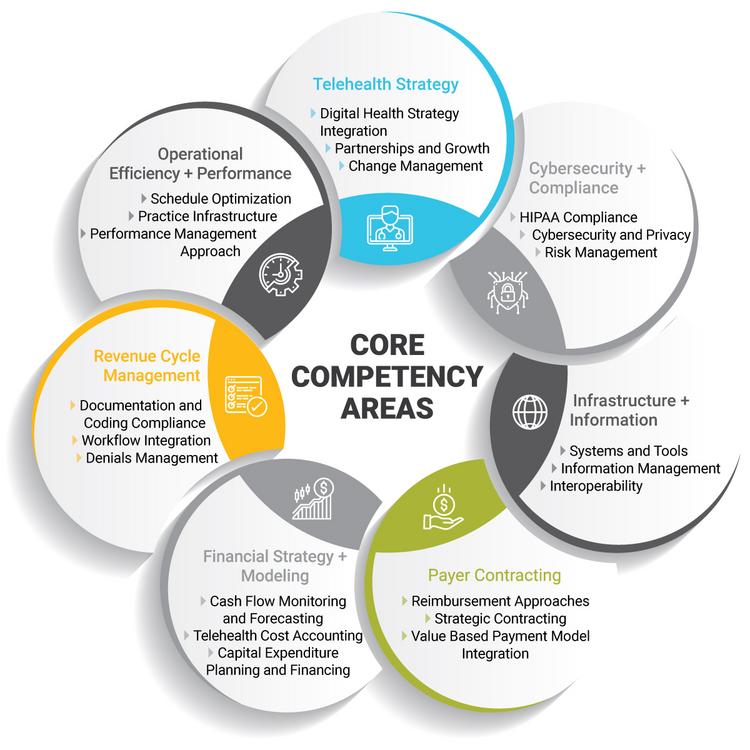 The path that providers follow to establish and enhance these core competencies will vary, and the level of maturity in each area will be dependent on the telehealth strategy the organization chooses to pursue. The level of maturity may vary across the capabilities of an organization, so it is important to look at the telehealth program as a whole. Building and deploying a successful and sustainable telehealth strategy will require organizations to explore current performance, pre-Covid, and begin to define goals for go-forward performance. Advancing along the continuum requires investing time and resources to build capabilities in a number of key areas. As a starting point, it is helpful for organizations to consider four key questions:
Can the organization make telehealth services profitable? What will reimbursement look like over time?
How should the organization evolve operations to better align with providing telehealth, including staffing, scheduling and patient communications?
What policies and procedures should the organization reevaluate and/or redesign to ensure compliance with telehealth requirements?
Does the organization have the right technology solution? Is the solution adequately protected from a cybersecurity perspective?
Starting with these questions can help orient an organization to the primary areas of focus for building the necessary core competencies and defining a long-term telehealth strategy.